Like a good breezy dress or comfortable sandals, a good pair of denim shorts are essential for summer. For most of us, they're the piece you throw on without much thought on the weekends or after work. But not all denim shorts are created equal—some come in itty-bitty lengths, others hit mid-thigh. You have your low risers and your high-waisted styles (my personal favorite). And if you're looking for grown-up alternatives to the booty-baring denim bottoms of your teen years, you've come to the right place. The 12 pairs ahead are made for women that appreciate fit and comfort without sacrificing style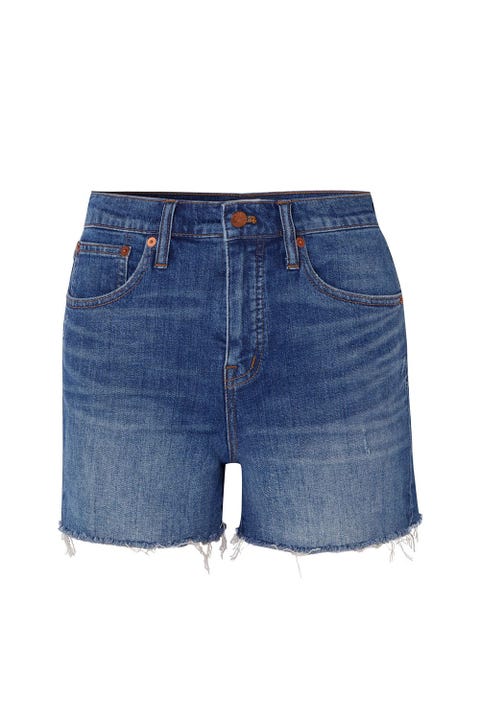 Distressed Denim Shorts
$70.00
Everyone should have a basic pair of blue denim shorts they can throw on at a moment's notice. It's that effortless, lived-in quality that makes your favorite pair a staple, summer after summer. If you don't have one yet or are looking for a new pair, grab this Madewell option. The high-rise style contains stretch and subtle distressing. Wear as is, or cuff the raw hem to show a little more leg.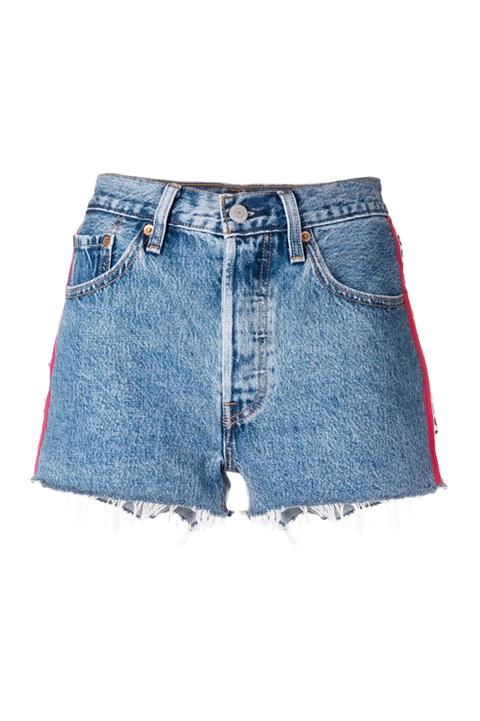 Levi's is the OG denim brand in fashion and has a variety of vintage-like styles. I love this $80 pair because of the faded wash and red side strips with the brand's logo. Frayed edges give these shorts a I-found-these-at-a-thrift-store vibe.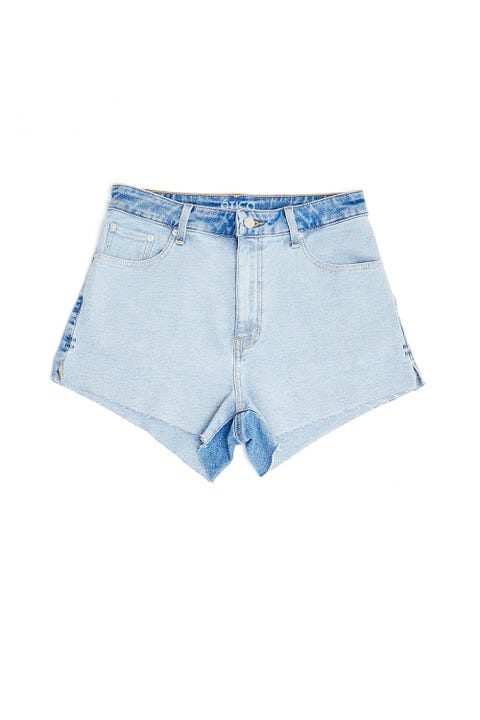 You won't feel guilty buying yet another pair of jeans from ÉTICA, because it's an eco-friendly and sustainable denim brand. The company uses naturally derived dyes and softeners on their denim, the tags are printed with soy-based ink on 100 percent recycled paper, and its labels are woven from 100 percent recycled material. Plus, they'll ship you these cool two-toned jeans in plant-derived biodegradable poly bags. SOLD.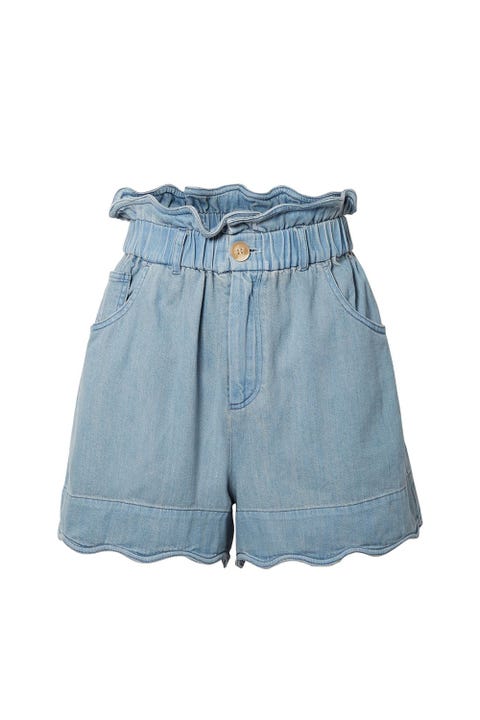 If you're looking for denim shorts in an unconventional design, here's a scalloped pair from SEA. It has a loose fit around the legs, but a high-rise elasticated waist to emphasize the narrowest part of the body. Tuck in a white bodysuit or leopard print silk cami to show off the paperbag-waist design.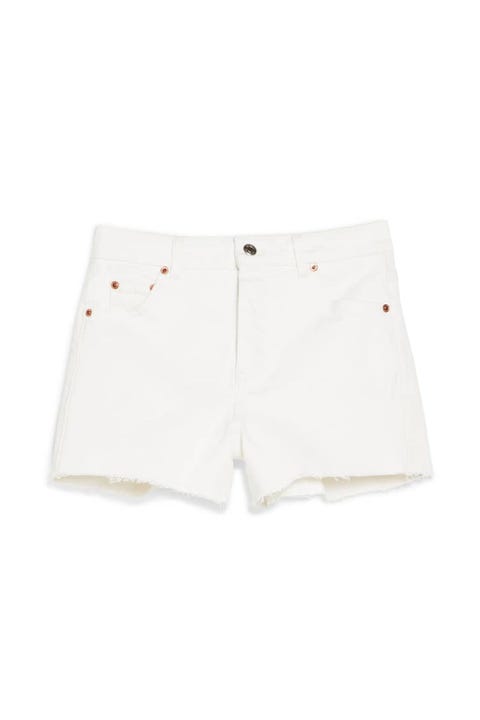 The hunt for a pair of white denim shorts is like buying a pair of white jeans: difficult. But, Topshop may have solved all of our struggles with these crisp white shorts. They're neither too long nor short and sit slightly higher on the waist. Wear them with a simple tank for day and a sexier bodysuit for night.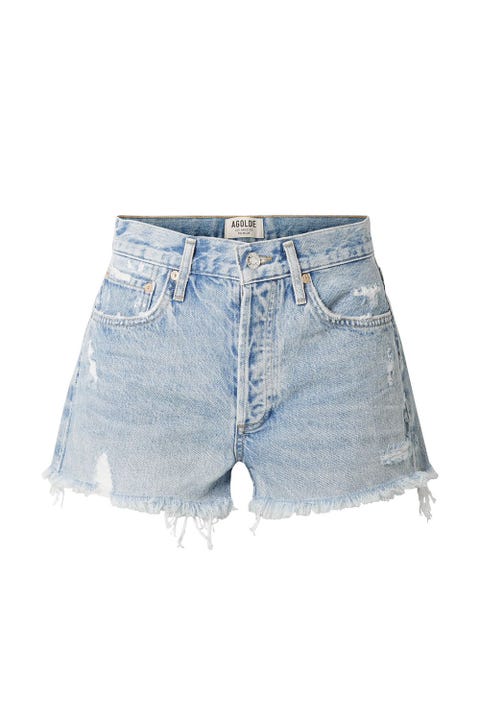 Sorry if you're tired of me raving about this pair of AGOLDE denim shorts, but I just love them. The light wash and purposeful distressing gives it that lived-in feel I'm looking for without the stressful experience of thumbing through all the racks at Goodwill. Show off that high-waisted fit with a tucked in t-shirt or crop top.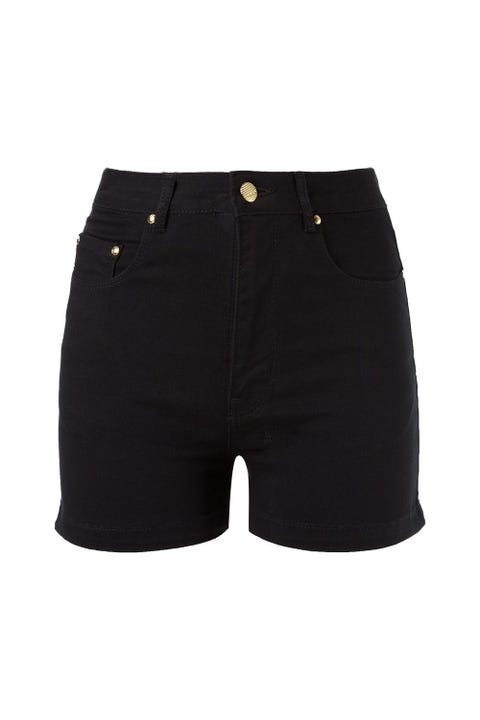 High-Waist Denim Shorts
$182.55
I loved my black booty shorts when I was 15, but now I try not to wear anything that might reveal a giant slab of my butt cheek. As an alternative to my black shorts of yesterday, I'll choose these simple Amapô bottoms. It'll be the base for my more extravagant tops and accessories.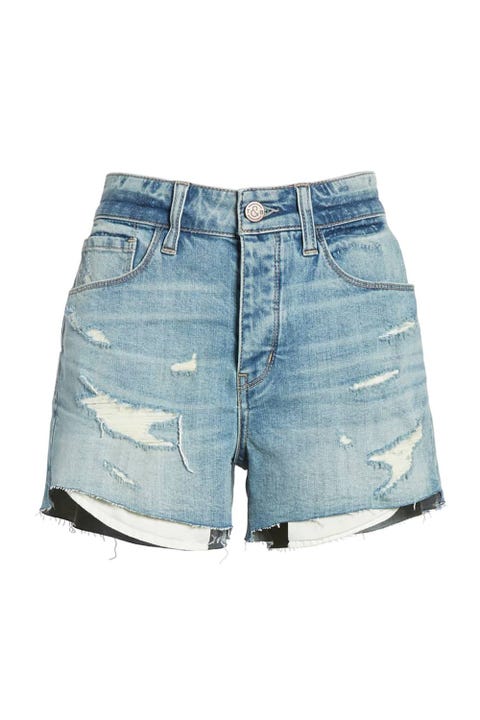 High Waist Boyfriend Cutoff Denim Shorts
$69.00
This pair of Treasure & Bond shorts are the perfect length. They're stylish enough for that twenty-something woman who wants cool details like rips and peek-a-boo pockets, but modest enough for moms on the go. Dress it up with an espadrille or down with flat braided sandals.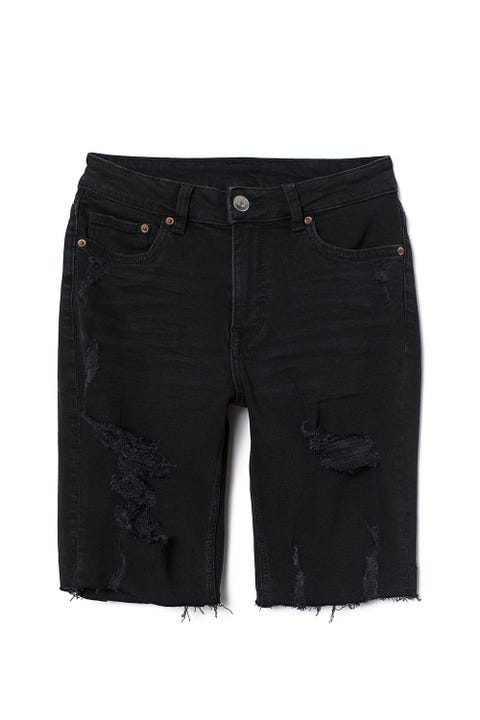 Knee-Length Denim Shorts
$29.99
For anyone seeking a pair of cute biker-style denim shorts, H&M offers one that's a bang for your buck. This pair is only $30 and comes with already distressed details that will look even more destroyed and worn-in over time. Did I mention these bottoms also have stretch? Buying them.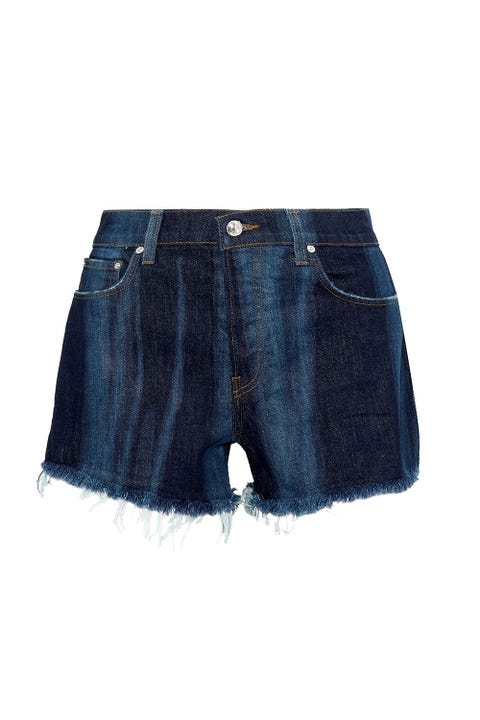 Drew Faded Frayed Denim Shorts
$119.00
I know these jeans look like they were ran over with a car (a few times over), but the marks are what makes it unique. Instead of the symmetrical stripes seen on most bottoms, this skid mark pair has an artsier vibe.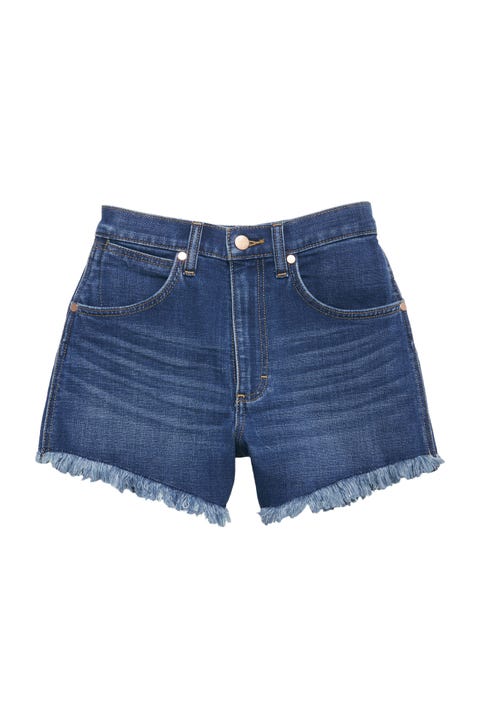 Wrangler Heritage Denim Short
$69.00
Reviews for this affordable pair of denim shorts range from "nice colors, great material, and comfortable" to "the curved cut of these on the legs is really nice and flatters the thigh." The bottoms come in five different colors, ensuring you'll find at least one you will love. A tip: size up in these shorts as they reportedly run small.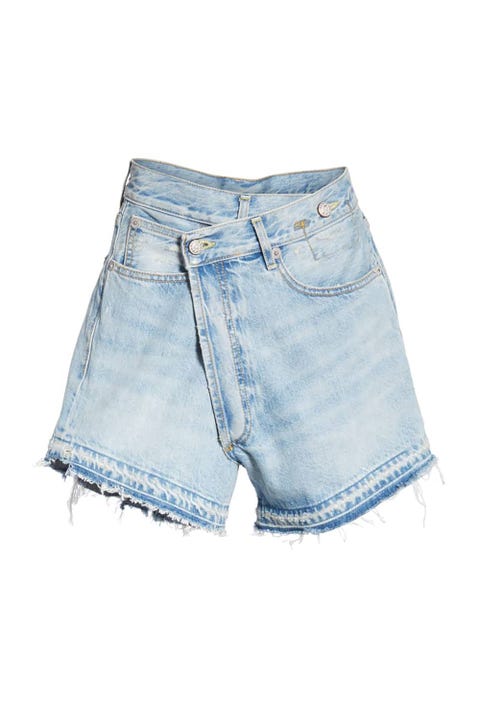 Crossover Denim Shorts
$310.25
For denim shorts that say "fashun" at first glance, I recommend getting a deconstructed pair from R13. The misaligned buttons and baggy style give it a less-than-perfect look, which makes it look edgier and cooler than any bottoms in my drawer. Though the price is steep for jean shorts, fashion fashun girls won't care.
Picture originated from: marieclaire
cite the source: marieclaire/by Marina LiaoMar 28, 2019